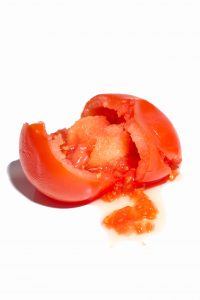 I hated tomatoes as a kid.
I wouldn't eat them on a salad. I wouldn't put them on a burger. I wouldn't eat tomato sauce if it were chunky. Today, I love them, because as an adult my wife seems to have more influence on me than my mother ever did when she tried to coax me with "They are delicious, just try one." I can't pin it down, but I think it was the texture when I first looked at the center that just turned me off. I harbor this regret for all of the salsas and bruschettas that I never had a chance to love.
Where am I going with this? Your business is just another tomato that your prospects will make a snap judgment about, regardless of your undeniable impact on Italian food.
How many times this week alone, have you called a business, walked into a coffee shop, or store and been greet with lackluster effort? More than half the time, I imagine. That's what it is for me.
Assess how your team greets people. All the details about your first impressions are critical. You have one moment to make it successfully. You can turn people off with your very first greeting. There are too many moving parts of the First Impression Moment to cover here so I think it would be helpful to cover some universal ones. Your greeting is significant pre-customer service.
How do you greet your customers/prospects?
Let's start with the phone. How fast do you pick it up? I would argue that it shouldn't be more than three rings. If you can't answer under three rings, then you need to find a way with technology to extend that without annoying phone trees. There are a lot of phone companies or services that can provide you a solution for this. Simple hold music is even better than just a ringing phone or a voicemail. Try an answering service or a virtual assistant.
If voicemail is inevitable, you need to get back to them promptly (I think an hour is excessive, but that is often the standard for a timely call back). Set the expectation on the voicemail, and beat that expectation. Tell callers "We will return your call within the hour" and make it a half-hour.
What do you say?
The actual greeting is vital because it sets up the entire interaction. The exact words will have to be tailored to your business. Say more than you feel comfortable with. Trust me; the normal instinct is to be short. Go one step further than you think you should. Here are my thoughts; always start with "hello (or hi) thanks for calling (business name), this is (your name), how can I help you today?"
Make it fun, make it original, be memorable! The most important thing is that the person calling you (or walking in) needs to know they reached the right place, feel like they matter and that you are willing to do your absolute best to help them.
How do you say it?
The most important part of that greeting is your tone. Tone is the picture that is worth a thousand words to your actual greeting. It reveals to the person who is calling a multitude of things – whether you want to help them, whether you are bored, or harried, or whether you are having a great day. It paints an image in customers' heads. They "see" you when they talk to you, the same way you picture the radio DJ in your head. You may later say, "that is not how I pictured her," but you get to set the tone (pun intended) at the outset.
Be energetic, friendly, and clear. I can't get into voice and diction classes at this point and still keep this post brief, so I would encourage you to look long and hard at the people you have answering your phones in terms of this.
In-person it's very much the same principle, although there are many other things you need to concern yourself with, especially if you are in retail. The tone and the speed of that initial greeting should be the same.
I know this may sound like customer service 101, and it is, but it's important. Work with your team on this; reinforce how essential it is.
Don't let your company be a tomato.