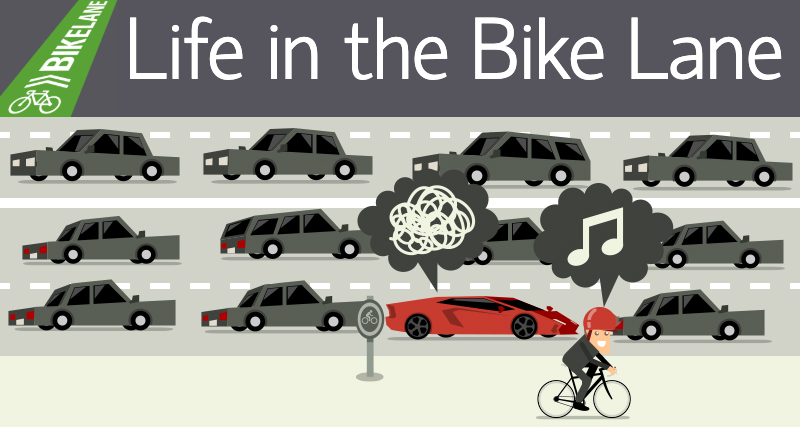 Small business marketing can be overwhelming.
You're busy and don't have time to read everything that is out there to help you grow your business.
Every week I'm going to do the legwork for you and share only the most useful news, tools, advice, and strategies to help you navigate the traffic on the road to growing your business simply and affordably.
If you are new to the Bike Lane, welcome!
If you like what you see, sign up below so you will never miss an issue.
"When to email, or when not to email: that is the question" - Hamlet
File under Email Marketing
Ok, so Hamlet didn't really ponder that, but I know I do, and so do you probably. If you use email as a marketing tool (if not, you should start) you have had to have this question in your head:
'Which day and what time should I send it?'
The success of any email campaign is how many people open it and interact with it. There is a myriad of things that will affect that, but the timing of it is one of the first details. While this is still more art than science, there is some data that can give you some guidance.
HubSpot provides some evidence as to when it's best to send them.
Read more here: https://blog.hubspot.com/marketing/best-time-to-send-email
Photo by Krsto Jevtic on Unsplash
from Social Media Examiner
'Dark Posts' aren't dark at all
File under Social Media and Advertising
Have you heard the term "Dark Posts" on Facebook? I know it sounds like we are talking about some seedy underbelly of the web, but we aren't. In short, they are posts that don't show up on your Facebook page itself.
It's a useful tool when you don't want to crowd your page with posts that are selling something. Keep in mind that Facebook is about building a community. Your fans and followers will go to your page to see what is new and be informed or entertained.
Just like your blog or your newsletter, you want people to want to read it. No one wants to read about you selling something or self-congratulating your company.
Dark posts are a great way to run ads and sell stuff and keep your Facebook page itself ad-free and engaging.
Read more from Social Media Examiner https://www.socialmediaexaminer.com/4-ways-to-use-dark-facebook-posts-for-business/
Photo by Glen Carrie on Unsplash
"Learn from the mistakes of others. You can't live long enough to make them all yourself." -Eleanor Roosevelt
File under Business Improvement
Every small business has a dream of moving on to the next level like it's a video game. We all want to level up. One of the things you can do is to look at the higher levels and how they do things to see what they do well and what they do terribly. Learn from others' mistakes.
Workfront, a project management software company, produces an annual paper called "The State of Work" and the 2020 edition is out. It does research in companies of 500 employees and up. Its clients are enterprise size clients. You probably don't have that many employees, but you can still learn from the data. Here are a couple of things that stood out to me:
"Company decisions don't always rely on data. Only 46% believe business decisions are made based on data."
Where can you get data on your business? Don't make gut decisions when detailed data is available. The hard part of balancing that is paralysis by analysis. Don't miss an opportunity because you are too busy chasing data to make a decision, either.
"People expect consumer ease and simplicity at work. 94% saying searching at work should match the ease of Googling."
This is a big one for me. My background in training has ingrained the "Training Manual" into my head. Start building a manual for your business, and put it on google docs so that it can be edited and searched. It will make everything more accessible to employees.
There is a lot of other useful data here to look at and to use as inspiration as you continue to grow your business to the next level.
https://www.workfront.com/campaigns/state-of-work
Photo by chuttersnap on Unsplash
The Bike Lane IS 'Old Marketing'
By the storyoftelling.com
If you are a regular reader here, you know that the "This Week's Wisdom" is usually quoted directly. I don't introduce it like this.
I thought the content of this post is a little different. Bernadette Jiwa brings us a post about how "Old Marketing" should be embraced. She references the butcher talking to her mother and how he "marketed" by being helpful and having meaningful conversations, without trying to rush anything.
It's precisely what marketing in the "Bike Lane" is. I couldn't have written it better, read it here: https://thestoryoftelling.com/old-marketing/
Photo by Denise Jans on Unsplash
'Life in the Bike Lane' is sponsored by HubSpot and bluehost.
Just an FYI, I'm an affiliate for both HubSpot and Bluehost. I do use them both and would not refer you to them if I did not endorse them. I receive a commission if you click through and buy something. So help a guy out?