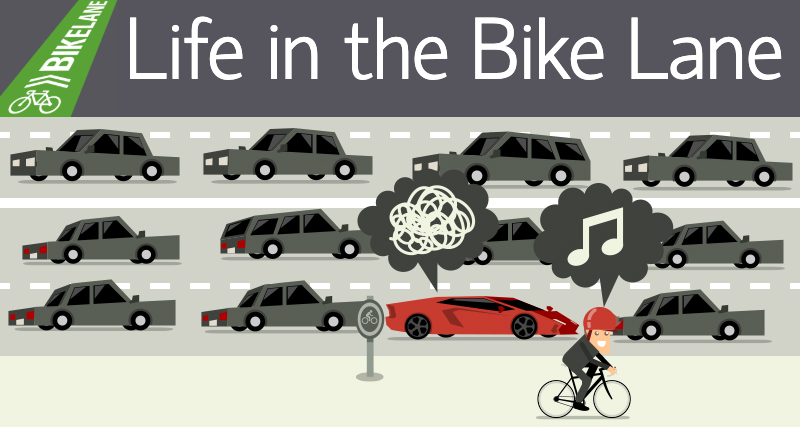 Small business marketing can be overwhelming.
You're busy and don't have time to read everything that is out there to help you grow your business.
Every week I'm going to do the legwork for you and share only the most useful news, tools, advice, and strategies to help you navigate the traffic on the road to growing your business simply and affordably.
If you are new to the Bike Lane, welcome!
If you like what you see, sign up below so you will never miss an issue.
'Showing up is 80 percent of life.' Sometimes it's easier to hide home in bed. I've done both. -Woody Allen
File under Search Engine Optimization
Just showing up might help you reach the top of google in local SEO too. 
Local SEO isn't that hard. It does have a lot of moving parts. You CAN 'show up' on that coveted first page of google if you take Woody's advice and 'show up' and put in the time to do it.
Duct Tape Marketing has a guide to walk you through the process of the basics. Read it here:
https://ducttapemarketing.com/local-seo-playbook/
Photo by Melanie Pongratz on Unsplash
File under Advertising
You wouldn't walk the streets with a sandwich board, would you? Don't do the equivalent with your advertising. 
Creating a custom audience allows you to clone your best clients for your advertising. This cloned audience will save you money on advertising and increase sales by targeting those people most likely to buy from you.  
Custom audiences will save you advertising dollars and increase sales. What better reason to jump into it?
Buffer has a useful post on how to build custom audiences on all the major social media platforms; you can read it here:
https://buffer.com/resources/a-crash-course-in-custom-audiences-for-your-social-media-ads
Photo by Birmingham Museums Trust on Unsplash
File under Social Media
You probably fall into one of three general categories. You are one of the following: 
You are an avid social media person 

You have an account but don't use it much, or 

You are a social media hermit 
There are subcategories, of course (I'm talking to you, Facebook Anonymous Members), but three general categories, in my opinion.
If you are looking to do some marketing on social, you need to know which ones your customers are using and why. Just because you are a big fan of Pinterest, for example, doesn't mean your customers are. They may be, but you should do some research. 
HubSpot has a useful post here about who is using which platform to specifically research products. 
Take a look here 
https://blog.hubspot.com/marketing/social-media-product-research
Photo by Giorgio Parravicini on Unsplash
Yes, marketing does matter
By seths.blog
Because marketers make change happen.
That's the work. Not to run ads, not to sell crap, not to invent hoopla.
Marketing makes change. If you're not proud of the change you're making, do something else.
It turns out that smart marketing is significantly more effective than the other kind. It turns out that showing up with the right work for the right people in the right way is a powerful tool in making change happen.
The other kind of marketing gets a bad rap, and that's well deserved.
But real marketing, the marketing that makes things better by making better things–that's what we need more of.
As you might have guessed, it's time for The Marketing Seminar. We've run this live digital workshop eight times already. More than 8,000 people in fifty countries have been transformed by this proven group workshop. We only run it a few times a year. Your boss will pay for it. You'll work hard and you'll get back far more than you put into it. The typical student gives and gets more than 500 pieces of feedback in just the first month. (Click the purple circle to save on tuition).
The seminar also has a #1 bestselling book, if that's more your speed. And a video-only course. Do what works for you.
We keep doing it because it works. This time it's your turn. I hope you'll take a leap and join us.
Photo by Markus Spiske on Unsplash
'Life in the Bike Lane' is sponsored by HubSpot and bluehost.
Just an FYI, I'm an affiliate for both HubSpot and Bluehost. I do use them both and would not refer you to them if I did not endorse them. I receive a commission if you click through and buy something. So help a guy out?