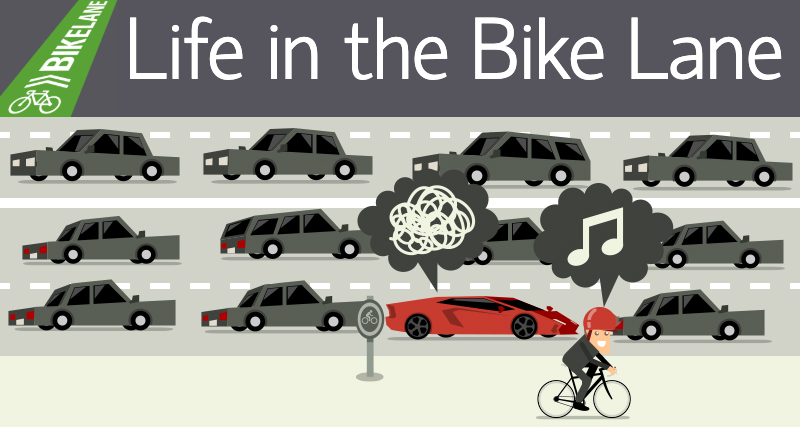 Small business marketing can be overwhelming.
You're busy and don't have time to read everything that is out there to help you grow your business.
Every week I'm going to do the legwork for you and share only the most useful news, tools, advice, and strategies to help you navigate the traffic on the road to growing your business simply and affordably.
If you are new to the Bike Lane, welcome!
If you like what you see, sign up below so you will never miss an issue.
Do you like the newsletter? Share it!
What is your Marketing Recipe?
File under Tools and Strategy
Some of my favorite recipes came from the packaging of the product. I buy Domino Confectioners Sugar every time I make buttercream frosting because the recipe is right there on the package.
It worked for Domino, and it can work for you. What are your prospects explicitly looking for the most? Can you provide it for free? If so, you have a top of the funnel piece of content that can draw prospects into your audience. That is the name of the game, building an audience.
Picture that old cardboard cutout from the back of the box of Domino sugar you use as a bookmark in one of your cookbooks. Ask yourself if you have anything you could use that is 'cookbook bookmark worthy.'
Sonia Simone (@Soniasimone) at Copyblogger presents this as "advertising too valuable to throw away."
p.s. When my wife read this, she said, " I'm calling bs. How often do you make buttercream frosting? Why not use chili as an example, you make that all the time?"
I told her that was the exact reason to go with buttercream frosting. I remember how to make chili. I don't need a recipe. I need the frosting recipe, so I always buy the Domino brand because it's always on the package.
Read more at https://www.copyblogger.com/betty-crocker-email-marketing/
Photo by Annie Spratt on Unsplash
File under Customer Service
Treat customers like you would treat your mother. So write them a thank you note.
This article got me thinking. In this digital world of social media and on-demand everything, analog stands out. Old "fashioned" means that it has been "fashionable" for a long time, and probably for a good reason. I rarely get a handwritten thank you note in the mail, and when I do, it's refreshing and memorable. I've received three in the last five years. I remember exactly who they were from (two were from the same person), and they have had an impact on me.
I'm guilty of not sending them either, by the way. I'm not preaching. I'm applauding the people that do. Hello, Moo.com?
https://www.fastcompany.com/90411805/bad-robot-co-ceo-katie-mcgrath-explains-how-to-send-the-perfect-thank-you-note
Photo by Álvaro Serrano on Unsplash
It's Like Looking Through your Competitor's Back Window.
File under Tools
Have you ever wondered what drives people to your competitor's website? I have. Moz is an SEO company that has been very well regarded for years, and they just came out with a free tool for domain analysis.
According to MOZ:
"The tool is free, and showcases a preview of many top SEO metrics in one place, including:
Domain Authority
Linking Root Domains
# of Ranking Keywords
Spam Score
Top Pages
Top Linking Domains
Discovered and Lost Links
Keywords by Estimated Clicks (new)
Top Ranking Keywords
Top Featured Snippets (new)
Top Branded Keywords (new)
Keyword Ranking Distribution
Top Search Competitors (new)
Top Search Questions (new)
I've used MOZ and found it intuitive and user-friendly. I used the new tool to look at my competitor's website. I saw what keywords they were ranking for, who's liking to them, and how many clicks their keywords are getting (estimated). It's an excellent tool to guide your marketing strategy.
Check it out here:
https://moz.com/blog/domain-analysis
Photo by Jeff Hendricks on Unsplash
"Tell a Better Story"
"Tell a story that is about the listener, not about you.
Tell a story that is worth sharing.
Tell a story that's unforgettable.
And tell a story that makes things better.
Storytelling is a skill. It's not something you're born with, it's not based on charisma or authority. It's more simple than you think, but it takes practice."
Read more and learn about Seth's Storytelling Workshop here https://seths.blog/2019/11/tell-a-better-story/
Photo by Anuja Mary Tilj on Unsplash
'Life in the Bike Lane' is sponsored by HubSpot and bluehost.
Just an FYI, I'm an affiliate for both HubSpot and Bluehost. I do use them both and would not refer you to them if I did not endorse them. I receive a commission if you click through and buy something. So help a guy out?