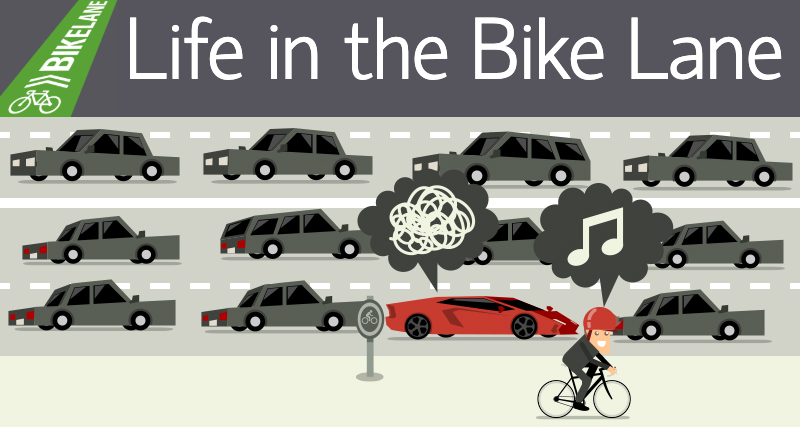 Small business marketing can be overwhelming.
You're busy and don't have time to read everything that is out there to help you grow your business.
Every week I'm going to do the legwork for you and share only the most useful news, tools, advice, and strategies to help you navigate the traffic on the road to growing your business simply and affordably.
If you are new to the Bike Lane, welcome!
If you like what you see, sign up below so you will never miss an issue.
from Larry Kim on LinkedIn
File under Advertising
The problem with advertising online is that you are afraid of it being a money pit. You aren't sure that it will be seen by the right people or at the right time in their buying process. Do you have the right audience? Was it too broad, or was it too tight?
Using your CRM data is a great way to make your advertising significantly more effective. Here's why:
You are confident that these people are interested in your product or service (since you have already had some contact with them because they are in your CRM)
Ideally, you have your data segmented. This allows you to customize an ad that will be more effective for each segment.
You can exclude other segments so that you know that the only people seeing the ad are the people most likely to click on it. This saves advertising costs because your ad is not going to 'everyone.'
Making advertising more productive and making them less expensive at the same time? That is the perfect combination.
Larry Kim has a great article on how to do this. He has a lot of jargon in there, but I think that if you are new to CRMs or Facebook advertising, you can still work through it because he does a great job with the screenshots to walk you through it 'Cliffnotes' style.
Read more here https://www.linkedin.com/pulse/how-use-your-crm-10x-online-advertising-larry-kim/
Photo by fran hogan on Unsplash
from Social Media Examiner
What Gets Measured, Gets Managed.
File under Advertising
Facebook ads (and social media as a whole) can provide a solid return on investment for small businesses that are looking to advertise. You can target them very precisely, and you can set the budget reasonably low.
Don't fall into the trap of not measuring the performance of each ad, though. Social Media Examiner has a useful list of 9 things to measure to monitor the performance of each of your ads.
Read more at https://www.socialmediaexaminer.com/how-to-analyze-facebook-ad-performance-9-ways/
Photo by Isaac Smith on Unsplash
'Life in the Bike Lane' is sponsored by HubSpot and bluehost.
Just an FYI, I'm an affiliate for both HubSpot and Bluehost. I do use them both and would not refer you to them if I did not endorse them. I receive a commission if you click through and buy something. So help a guy out?